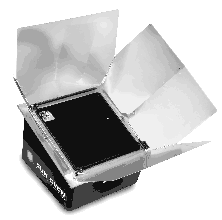 What can a Solar Oven do?

The Global SUN OVEN can:
Heat soup / pies / frozen meals etc
Cook stews,
Roast Chickens, Meat & Potatoes
Bake Pizzas, Cookies, Cakes & bread,
Dry Fruit, (fruit leather, sun dried tomatoes, capsicums etc)
Boil Water
Steam Vegetables
Stew Fruit
Pasteurize Water
(and anything else you do in your oven!)
Help the Environment
Cook nutritionally superior food
Cook more succulent food
Save you money
Keep your kitchen cool
Allow you to cook outdoors in high fire risk areas
Cook on the beach right where you fish
Fit in your camper / caravan / car boot
Be the centre of conversation at your next BBQ*!!
Please be aware that not all Solar Ovens will be able to do the above. The Global Sun Oven is unique!
* Sun Ovens do not BBQ meat like steak & sausages - but if you are having a BBQ they are great to do a roast chook, wing dings, potatoe bake, baked potatoes, fish, kebabs, garlic bread, buns, roasted veges, deserts etc on the side.
Safe - no fire risk, Easy - anyone can do it, Can even cook while your at work...
BBQ's Camping Baking Boiling Water Pastuerisation Cooking Drying